This article is currently in the process of being translated into German (~45% done).
The basics:
Your first website
Wenn Visual Studio installiert ist, können wir ganz einfach unsere erste ASP.NET Website erstellen. Öffne dazu das File-Menü und wähle "New Web Site". Anschließend öffnet sich volgender Dialog: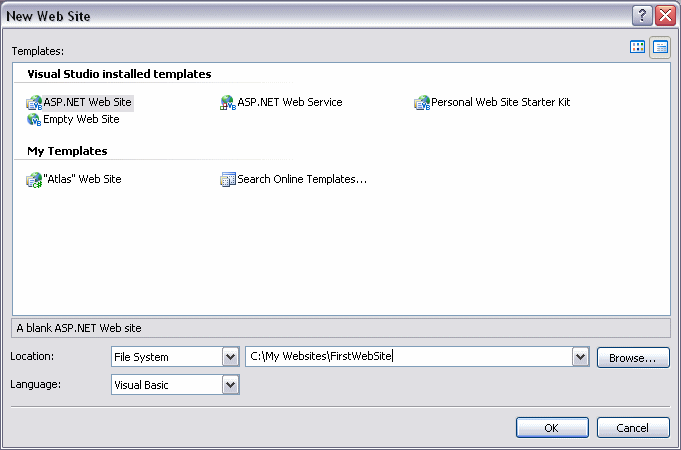 Wähle "ASP.NET Web Site" und gib deiner Seite einen Namen. Hierzu kannst du den Namen einfach im Location Textfeld ergänzen. Du kannst auch den Speicherort für dein Projekt anpassen, indem du den Pfad im selben Textfeld anpasst, wie im Beispiel zu sehen. Im Moment könntest du auch die Standardnamen benutzen, aber später wirst du froh sein, wenn du alle deine Projekte richtig benannt und in strukturierten Ordnern abgelegt hast.
This tutorial will focus on the C# language. Once again, no knowledge of this is required, so if you already know another .NET language, you will get to learn some C# with this tutorial as well. Select C# in the Language dropdown. Now, click the Ok button to create this new website.
VS will create a very basic website for you, consisting only of a Default.aspx file (and it's partner, the Default.aspx.cs file) and an App_Data folder. I will explain this later, but for now, just accept the fact that they are there. We will only use the Default.aspx for this first example. Move on to the next chapter, for the obligatory "Hello, world!" example.
This article has been fully translated into the following languages:
Click here
to help us translate this article into your language!
---