This article is currently in the process of being translated into French (~98% done).
The basics:
Your first website
Avec MS Visual Studio installé, nous sommes prêts à créer notre premier site Web ASP.NET. Dans VS, c'est très simple. Ouvrez le menu Fichier et sélectionnez "Nouveau site Web". La boîte de dialogue suivante vous sera présentée: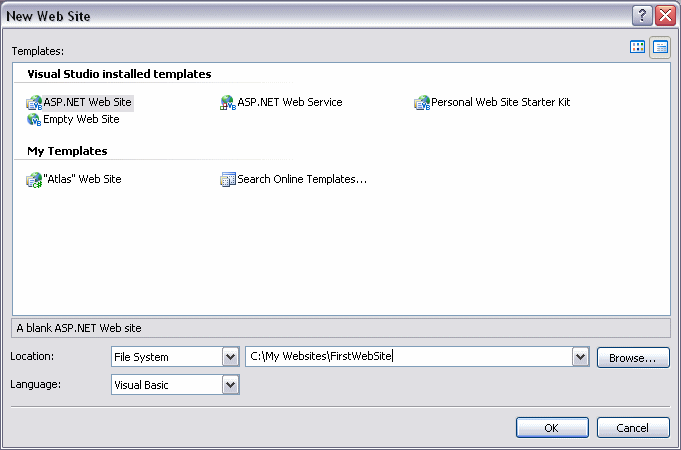 Pour créer un nouveau projet, choisissez "Application web ASP.NET Core" (anciennement "ASP.NET Web Site"). Vous devrez ensuite choisir un nom de projet (par défaut WebApplication1), ainsi qu'un emplacement de sauvegarde. Le nom de la solution correspond au fichier principal d'extension .sln et peut être placé dans le même répertoire. Une fois toutes les informations rentrées, cliquez sur "Créer".
Ce tutoriel se concentrera sur le langage C#. Encore une fois, aucune connaissance de ce language n'est requise, donc si vous connaissez déjà un autre langage .NET, vous apprendrez également un peu de C# avec ce didacticiel. Sélectionnez C# dans la liste déroulante Langue. Maintenant, cliquez sur le bouton OK pour créer ce nouveau site Web.
VS créera pour vous un site Web très basique, composé uniquement d'un fichier Default.aspx (et de son partenaire, le fichier Default.aspx.cs) et d'un dossier App_Data. Plus de détails seront fournis ultérieurement, mais pour l'instant, acceptez simplement le fait qu'ils sont là. Nous n'utiliserons le Default.aspx que pour ce premier exemple. Passez au chapitre suivant, pour l'exemple traditionnel "Hello, world!".
This article has been fully translated into the following languages:
Click here
to help us translate this article into your language!
---