This article is currently in the process of being translated into Italian (~98% done).
Le basi:
Your first website
Dopo aver installato il Visual Studio della Microsoft, siamo pronti per creare il nostro primo sito web con ASP.NET: questo sarà molto facile in Visual Studio. Apri il menù File e seleziona "New Web Site". Ti verrà mostrato il seguente dialogo: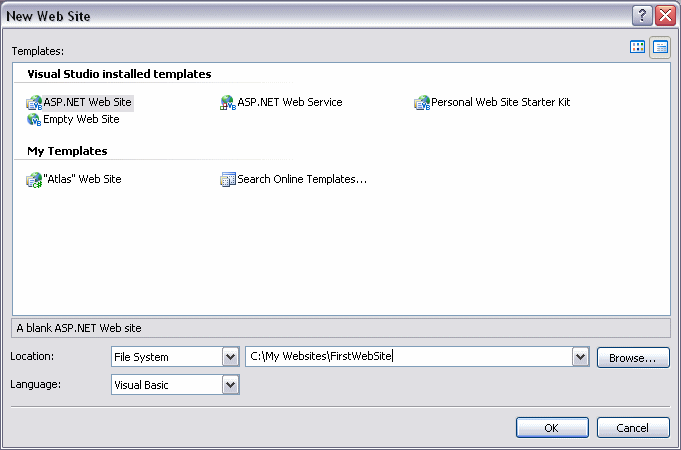 Nella parte alta, devi selezionare "ASP.NET Web Site", se non è già selezionato. Devi anche scegliere un nome per il tuo sito web. Questo può essere fatto inserendo il nome nella seconda casella della riga Location. La casella sarà probabilmente già stata riempita, con l'ultima parte probabilmente del tipo "Website1". Potresti anche accettare questo nome generico, insieme alla cartella suggerita, oppure puoi scegliere un nuovo nome, come ho fatto io. Ho per prima cosa creato una cartella "My Websites" e dentro di questa vado a creare il nuovo progetto con il nome "FirstWebSite". Per il momento, questo non è molto importante ma più tardi ti sarà probabilmente comodo riunire tutti i progetti in una cartella specifica.
Questo tutorial descrive quello che si può fare con il linguaggio C# (C-Sharp). Lo diciamo ancora, non si richiede una conoscenza preliminare, quindi se già conosci un altro linguaggio della famiglia .NET, allora imparerai anche alcune cose del C# nel corso di questo tutorial. Seleziona quindi C# nella lista Language. Infine, clicca sul pulsante di OK per creare il nuovo sito web.
Il Visual Studio procederà a creare un primo sito web iniziale, che conterrà solo il file Default.aspx ed il file Default.apsx.cs che ne è un parente stretto, oltre ad una cartella App_Data. Lo spiegherò nel prosieguo, ma per ora accetta come dato di fatto che questi elementi ci sono. Lavoreremo solo sul file Default.aspx per questo primo esempio. Continuiamo con il prossimo capitolo per l'obbligatorio "Hello World!".
This article has been fully translated into the following languages:
Click here
to help us translate this article into your language!
---