This article is currently in the process of being translated into Portuguese (~98% done).
The basics:
Your first website
Estaremos prontos para criar o nosso primeiro ASP.NET website logo após a instalação do MS Visual Studio. No Visual Studio, a criação do projeto é muito fácil, basta clicar no menu Arquivo e selecionar "Novo Web Site". Você será apresentado com o diálogo a seguir: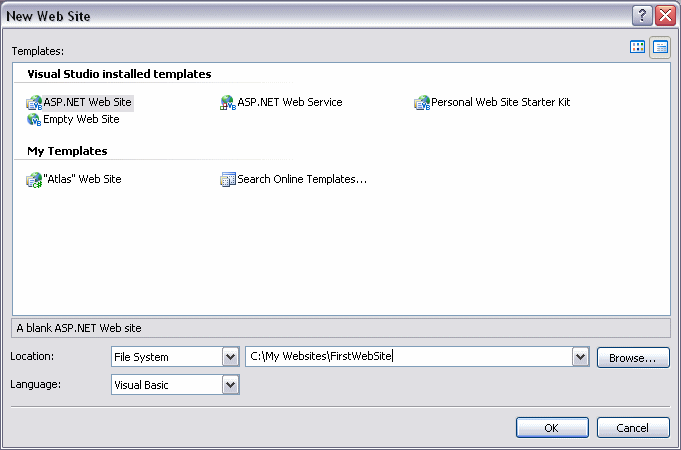 Você precisa selecionar "ASP.NET Web Site", se já nao estiver selecionado. Você tambem deverá dar um nome ao seu novo site. Isso é feito informando um nome no campo Location. Esse campo provavelmente já esta preenchido para você, com a ultima parte sendo algo como "Website1". Você pode escolher por aceitar esse nome com a localização do seu projeto, ou informar um novo nome e/ou endereço, como eu fiz. Eu criei uma pasta, "My Websites" e dentro dessa pasta eu gostaria de criar um novo projeto com o nome de "FirstWebSite". Por enquanto isso é menos importante, mas futuramente você pode querer salvar todos os seus projetos na mesma pasta.
Esse tutorial vai focar na liguagem C#. E de novo, voce nao precisa saber nada sobre ela, assim se você ja souber alguma outra linguagem .NET, você vai aprender um pouco de C# com esse tutorial também. Selecione C# no campo Language. Agora, clique no botao OK para criar um site novo.
VS vai criar um site bem basico para você, contendo apenas um arquivo chamado Default.aspx ( e o arquivo parceiro dele Default.aspx.cs) e uma pasta App_Data. Eu vou explicar mais tarde, mas por enquanto só aceite o fato que eles estao aí. Nos vamos usar somente o arquivo Default.aspx pare esse exemplo. Vá para o proximo capitulo para o mandatorio "Hello, world" (Ola mundo) exemplo.
---
This article has been fully translated into the following languages:
Click here
to help us translate this article into your language!