This article is currently in the process of being translated into Portuguese (~85% done).
The basics:
Your first website
With MS Visual Studio installed, we're ready to create our first ASP.NET website. In VS, this is very easy. Open the File menu and select "New Web Site". You will be presented with the following dialog: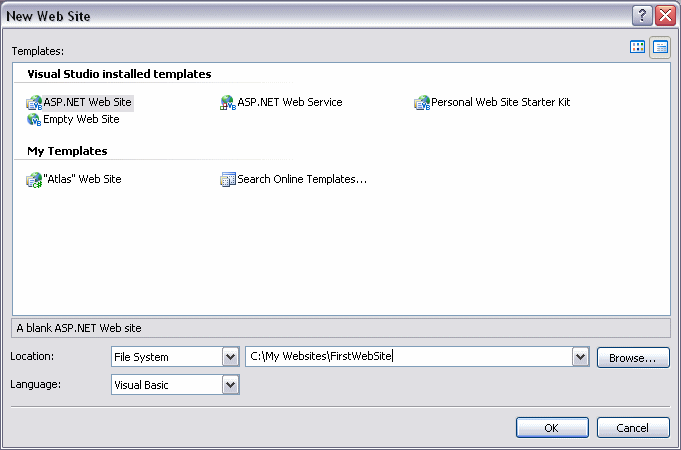 Você precisa selecionar "ASP.NET Web Site", se já nao estiver selecionado. Você tambem deverá dar um nome ao seu novo site. Isso é feito informando um nome no campo Location. Esse campo provavelmente já esta preenchido para você, com a ultima parte sendo algo como "Website1". Você pode escolher por aceitar esse nome com a localização do seu projeto, ou informar um novo nome e/ou endereço, como eu fiz. Eu criei uma pasta, "My Websites" e dentro dessa pasta eu gostaria de criar um novo projeto com o nome de "FirstWebSite". Por enquanto isso é menos importante, mas futuramente você pode querer salvar todos os seus projetos na mesma pasta.
Esse tutorial vai focar na liguagem C#. E de novo, voce nao precisa saber nada sobre ela, assim se você ja souber alguma outra linguagem .NET, você vai aprender um pouco de C# com esse tutorial também. Selecione C# no campo Language. Agora, clique no botao OK para criar um site novo.
VS vai criar um site bem basico para você, contendo apenas um arquivo chamado Default.aspx ( e o arquivo parceiro dele Default.aspx.cs) e uma pasta App_Data. Eu vou explicar mais tarde, mas por enquanto só aceite o fato que eles estao aí. Nos vamos usar somente o arquivo Default.aspx pare esse exemplo. Vá para o proximo capitulo para o mandatorio "Hello, world" (Ola mundo) exemplo.
This article has been fully translated into the following languages:
Click here
to help us translate this article into your language!
---