This article has been localized into Spanish by the community.
Lo básico:
Tu primer sitio web
Con MS Visual Studio instalado, estamos listos para crear nuestro primer sitio web ASP.NET. En VS, esto es muy fácil. Abre el menu Archivo y selecciona "Nuevo Sitio Web". Se le presentará el siguiente diálogo: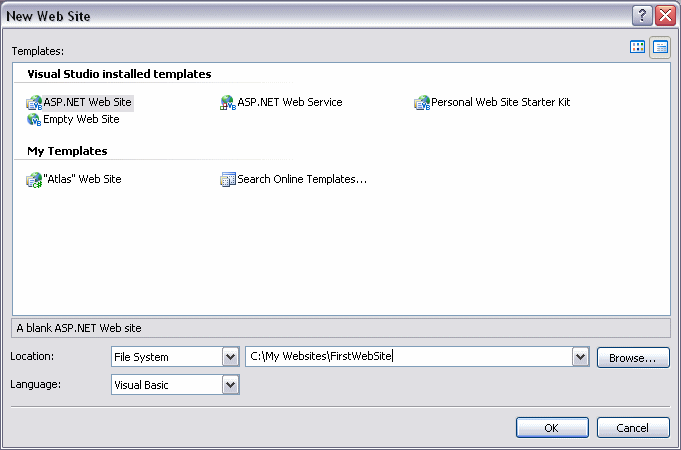 Seleccione "Sitio Web ASP.NET", si no está seleccionado. Tambien deberá nombrar su nuevo sitio. Esto se hace introduciendo un nombre en la casilla Localización. Esta caja de texto probablemente ya esté llenada para usted, con la última parte siendo algo como "Website1". Puede aceptar esto, así como la localización del Proyecto, o puede introducir uno nuevo, como hice yo. Creé una carpeta, "Mis Sitios Web", y dentro de esta carpeta, crearé el nuevo Proyecto con el nombre "PrimerSitioWeb". Por ahora, esto es menos importante, pero más adelante querrá reunir todos sus proyectos en una carpeta específica.
Este tutorial se enfocará en el lenguaje C#. Una vez más, no se necesita conocimientos del mismo, así que si ya conoce otro lenguaje .NET, también aprenderá algo de C# con este tutorial. Seleccione C# en el menú desplegable. Ahora, de click en el botón OK para crear este nuevo sitio web.
VS creará un sitio web muy básico para usted, consistiendo solo de un archivo Default.aspx (y su compañero, el archivo Default.aspx.cs) y una carpeta App_Data. Explicaré esto más Adelante, pero por ahora, solo acepte el hecho de que están ahí. Solo utilizaremos el archivo Default.aspx para este ejemplo. Pase al siguiente capítulo para el ejemplo obligatorio "¡Hola, Mundo!".
---
This article has been fully translated into the following languages:
Click here
to help us translate this article into your language!